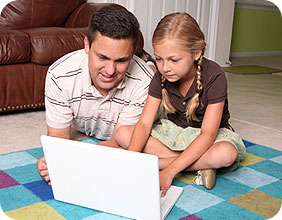 High Speed Internet
Connect in a flash with Bee Line Online High Speed Internet.
This is the Internet connection you've been looking for...

Get rid of your dial-up connection and its endless waiting. Digital High Speed Internet from Bee Line puts you in the middle of the World Wide Web - instantly!

Speed. - Connections as fast as 500 Mbps download x 20 Mbps upload* mean you connect, communicate and interact right away with Web addresses around the world. Music, photos and video download in seconds.

Email. - Bee Line Online gives you up to five different email addresses, enough for every member of the family.

No phone. - Bee Line Online is a cable modem connection: your phone line remains free. No more busy signals!

Tech support. - Bee Line Online tech support is available 24/7 if you ever have any questions about your computer or connection.